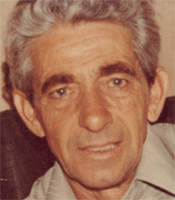 Samuel Strain McCrindle 15/09/1926 - 19/11/1977
Samuel Strain McCrindle was born on September 15, 1926 to Mary McCrindle (nee Kelly) & Ebenezer McCrindle (3rd surviving son). Two girls born before Sam didn't survive but he had two younger sisters. He was born in High St, Girvan, Ayrshire, Scotland. He attended Girvan Primary School leaving school at 15, the year WW2 started. He was not known to be a healthy child but he was a battler, surviving all the childhood diseases, including Scarlet Fever.
At age 15 he lied about his age and joined the Merchant Navy where he worked in the galley as a chef. He was on a survival ship, picking up men from blown up ships during WW2. This played on his nerves and affected him for the rest of his life.
He left the Merchant Navy after the war and joined his Father and brothers Davy and Bill in the fishing which was about the only option in Girvan. They fished herring on the west coast of Scotland. This was also called "white fishing" which referred to Whiting, Cod and Haddock. He then worked for a time on the railways at Ayr Engine Depot, about 26 miles from Girvan. At this time he met his wife Margaret through his sister Lena. Lena was keen on Sam's mate Hugh Young and it progressed from there. Margaret claims this as a big surprise since he was the talk of the town, so handsome in his Merhcant Navy uniform. For this reason Margaret didn't take his attentions seriously for a number of months. However on New Years day he asked Margaret to marry him. She initially refused, accusing him of being drunk from the Scottish New Year. Hers was a strict Methodist family with no alcohol in the house. The McCrindles were known to enjoy a drink and so her family discouraged the union. Nontheless Sam perservered and eventually Margaret agreed. They were married April 4th 1951 in the Methodist church in Girvan.March 8th 1952 they had their first child, a son, Ebenezer.
At this time Sam and his brothers picked up on a fishing boat from Norway and sailed to Walvis Bay, South Africa where they fished Pilchards. He was away for long periods with short stops back in Girvan. Their second son David was born September 17th 1953. Initially Margaret was to follow Sam to South Africa but her doctor advised against taking the young children to such a remote place on the edge of a desert. He highlighted the fact there wasn't running water or flush toilets and that ended that plan. In 1954 his third son Colin was born. Sam stayed at the long haul fishing for some time building a savings base for the family. However he realized the importance of being around for his family and so despite earning exceptional money on these long haul fishing jobs, he returned to Girvan. He got a new job in Irish fishing and particularly in loading Irish Herring into Dutch boats out at sea, because the Dutch boats had to stay outside British waters. At this time they stayed in Killey Begs in Ireland.
On his return to Girvan, the council gave his young family a brand new house at 23 Snow St, so they moved from Margarets parents at 12 Greenside St. Audrey was born at 23 Snow St on October 18th 1958. With 4 young children, and 3 boys, Sams attention was required firmly at home and he picked up a job as a janitor at the Girvan Nursery School (kindergarten). One day about a year later Sam came home with a cutting from a newspaper about life in Australia. Margaret was not so keen on the idea but Sam was persistent. He suffered from arthritis from long periods working on boats in rough weather. Besides, after much debate Margaret saw that the future for her children in Girvan was quite bleak. Margarets ever wise doctor approved of the move to Australia but cautioned to choose a dry climate, so they settled on Adelaide, South Australia.
It took over a year before they were finally accepted. They sold up everything and set sail on January 2, 1962 on the Italian ship "Castle Felice". They arrived in Melbourne on February 11th 1962 and caught the overnight train through this large strange land to Adelaide. They intially lived at the Finsbury Hostel. Sam got a job with the Commonwealth Bank. Margaret worked night shift at Brookers Canning Factory. After several attempts to get into the fishing in Portland, Port Lincoln and Port Adelaide, Sam found it was tightly held in Greek and Italian family groups. He worked in numerous jobs as a plastic welder and in construction work, before eventually getting a job in the loading depot for Ansett Airlines. He worked at Adelaide Airport for the rest of his life, working his way up to supervisor of the loading depot.
Sam led an active and sociable life in Australia, being a regular in Scottish Dancing groups and forever attending or giving parties. Sam visited New Zealand and went back to Girvan for a visit. On November 19th 1977 Sam had a car accident at Culpara on the Yorke Peninsula. He had three passengers including his wife Margaret and all survived with minor injuries. Tragically, Sam suffered a serious head injury which due to the remoteness was not able to be treated in time. He was only 51. He was dearly loved and has never been forgotten, an integral part of the story of the McCrindles in Australia.